Sarees have always had the same silhouette. It is predominantly described as the unstitched nine yards of cloth that has been and still continues to be the most favourite wear of women in India. Be it any occasion or festivities; you would spot even the most westernized woman in a sari. However, since the past year, this gamut is seeing a rapid change in the basic colour selection and the design on a saree. Previously, the worth/ beauty of a sari was decided by the quantity of embellishments it held. However, these days, women measure the beauty of a drape by its simplicity. 
Did you know, many women are picking up saree as their daily formal wear instead of western suits and skirts these days? And why shouldn't they, the soft cottony-comfort a saree can offer is not there in any other attire. The two fabrics that stand out the most in the daily-wear gamut of the fashion designer saree are linen and cotton. Cotton is an age-old fabric that is the household staple of all saris; it is obtained from the Gossypium plant and is completely biodegradable in nature. 
Let us have a look at the latest fashion Designer Sarees, cotton saris, and linen saris that exude class, grace, and sophistication: 
LINEN SAREES
Linen is a natural fabric that is made from fibres of flax plants. These saris have a certain texture that looks super classy. It takes quite some amount of hard work to get this fabric made. Owing to the tedious making process, linen is pried higher than cotton. There are extreme beautiful variants in Linen Sarees ranging to plain handwoven drapes to floral printed ones that you can adorn on any occasion to look phenomenal. 
HANDLOOM COTTON SAREES
The handloom cotton sarees are a favourite of the working ladies. These saris have a breathable texture and are very popular in India. You will find them at a very reasonable price. Also, women who dislike wearing heavy sarees have a love for these cotton handloom saris. These are simple to look at, but when worn, they render grace to the wearers. 
IKKAT COTTON SARIS
Ikkat is a technique of weaving. Many women think it is a print, but it is not so. Today in the modern textile industry, the Ikkat handloom sarees stand very relevant. In the Ikkat weave, the threads are first tied and then dyed. Once they are dried, then the threads are put on the loom to be woven. You will find many varieties in the gamut of ikkat. You can as well choose from a wide range of colours.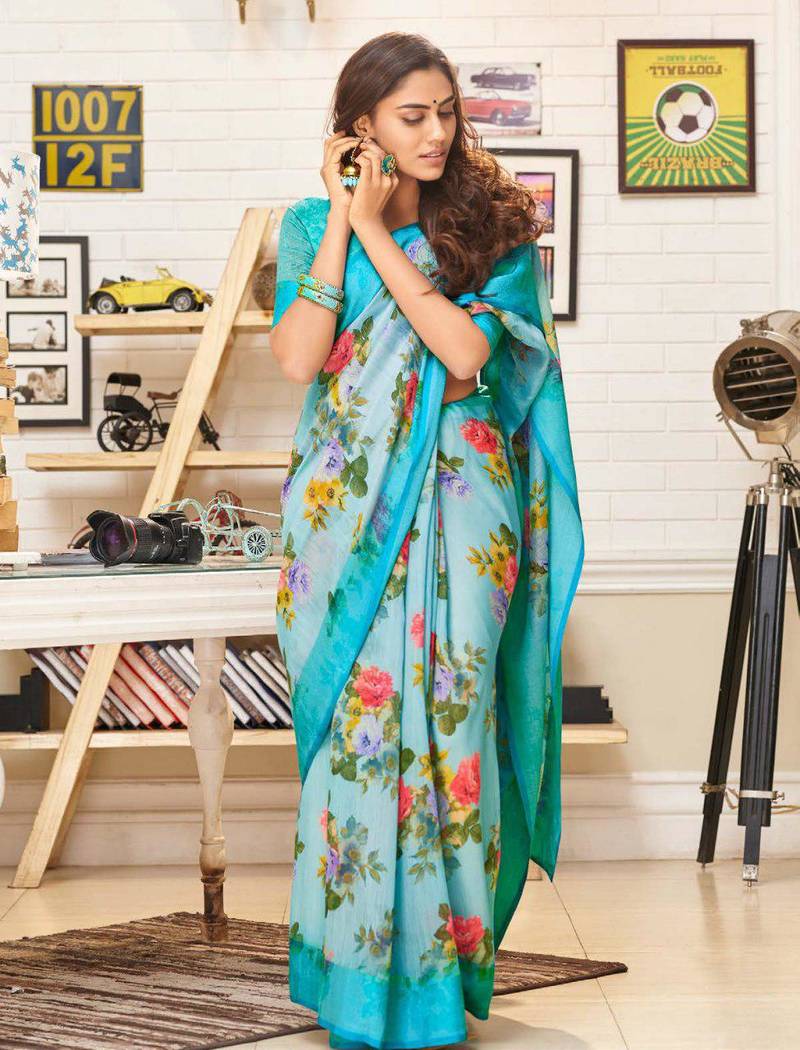 TUSSAR HANDLOOM SAREE
Tussar is a premium silk variety in India. It might not be as rich and luscious as the mulberry silk, but in the handloom textile, it stands out. Handloom saris made of Tussar silks are the number one choice of women for formal parties and get-togethers. This type of saris is also a favourite of young women. 
FEW TIPS WHEN WEARING A LATEST FASHION DESIGNER SARIS IN HANDLOOM 
When wearing a handloom saree, make sure that your blouse matches the style of your sari. 
Keep ornamentation to the minimal. Remember, the class is in simplicity. 
Pay attention to your hairstyle. Make sure it is neatly tied. An unkempt hair does not look nice with a handloom saree. 
Handloom saris are often thin, which is why you must wear it with a matching petticoat. 
Lastly, do not forget to smile; that's your best ornament.