Any wedding in South India is not complete without a bride showing off her Kanchipuram silk saree that is woven with silk and golden fabric. It weaves these sarees from a mulberry string that originates from south India itself. Temple borders and checks along with stripes as well as flower patterns are present on customary Kanchipuram sarees. Here are two trendy designs of Kanchipuram saree that will make you add these to your wedding collection.
Look different yet beautiful in delicate
The Indian wedding scene is never finished without the pink and red shaded sarees for the bride. But recently some changes are seen when it comes to selecting bridal sarees. Pastel shades that look simple yet elegant are chosen for bridal saris with no hesitation. The truth is that these days women are ready to explore different shades with pastel hues. Shades like lilac and peach are very popular pastel colors. You may feel that the impact of pastel colors is not stunning, but there lies a freshness to the look which is very captivating. The bride will still look dazzling. Patel shading will create a calm and soothing touch to a bridal sari.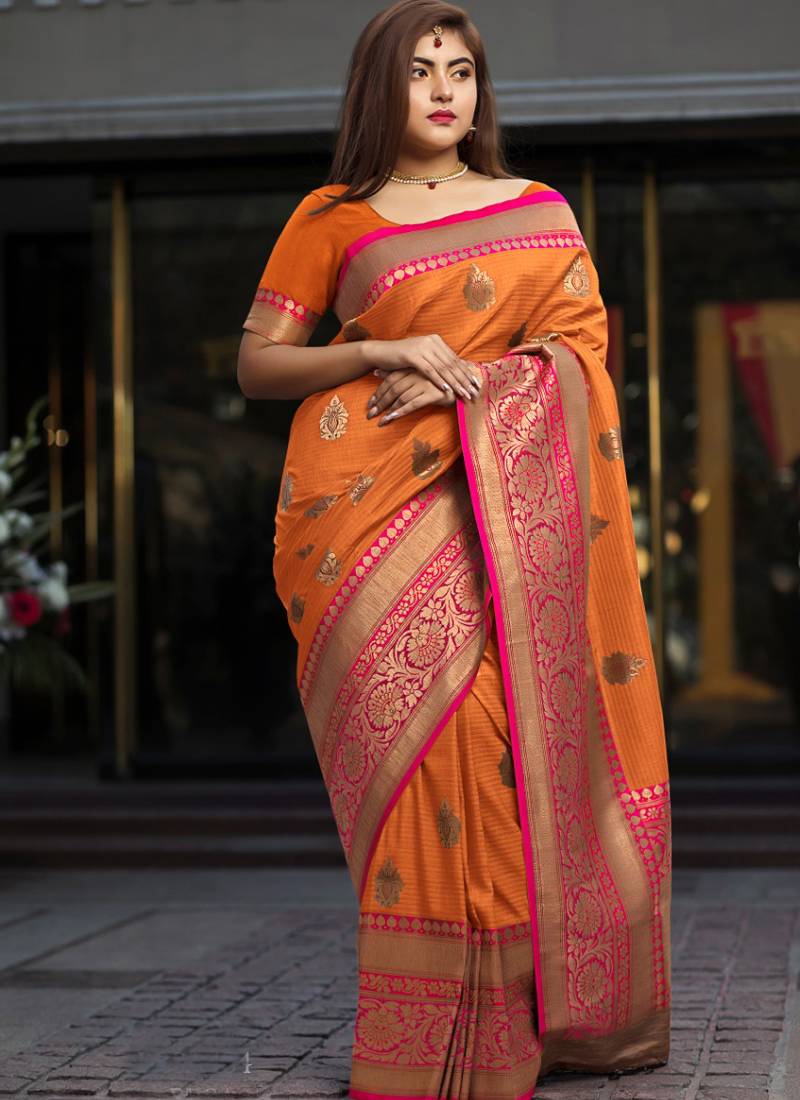 Opt for an orange and pink Kanchipuram saree
Kanchipuram silk saree with swan designs in zari weave present in the pallu and border will make the sari a must buy. Swans on a lotus symbolize are present in the pallu and are encased inside the leaves. The flowers on the body of the saree symbolize magnificence while the swan represents quietness. This pink color base Kanchipuram sari comes with orange string cross weavings. Further, the designs of Putta lotus are seen to be present along the entire body of this sari. But the borders, and the pallu, are portrayed by swan structure zari work. Flaunt your grace by wearing this conventional woven orange and pink Kanchipuram silk saree.
Have a look at a fuchsia pink saree
Look glamorous on your wedding day in this perfect Bridal Saree in fuchsia pink. A Pure Kanchipuram saree in hot pink with a stylized design of feathered creatures woven with zari on the body will look dazzling on a bride-to-be. The borders and pallu are checked with zari lines and decorated with little round butties.
Sport a glamorous look in a royal blue and orange sari
Blue and orange Kanchipuram silk saree that is decorated with pure silver as well as golden zari butties along with the broad border will look perfect on a bride. This will highlight the vibe of a wedding outfit. This saris for a bride can be worn with a contrasting blouse. Get the latest collection for your wedding. This illustrious blue and orange fashionable Kanchipuram silk sari have little coin butti designs everywhere throughout the sari. This will add a unique touch to a wedding and other customary events.
If you drape yourself in a Kanchipuram silk sari, you will look excellent. To include a touch of classiness try to enhance your look with vintage choker neckpieces. It is one such adornment back in design. It will complement the ethnic touch and worth of Kanchipuram silk saris by including a shade of the most recent and modish design. The vast majority of these sarees have brilliant zari work. So to accessorize it, generally wear choker neckpieces in golden color. Conventional studs particularly Jhumkas look flawless with these customary sarees. Women regardless of their age are believed to wear customary Jhumkas with Kanchipuram silk sarees as they embellish the excellence and magnificence of these sarees for the bride. Such customary Jhumkas with complex gold carvings and ornamentation of jewels look great with the look as the feel of these silk sarees along with the border in gold pattern.