Sarees are the women's clothing which can be best suitable for various occasions such as marriages, functions, and much more. Most of the women in India are so fascinated to wear this garment. Sarees are coming with the matching blouse which makes women look attractive. As we know saris are available in many fabrics. There is a saying "Variety is the true flavors of life", having a wide range of saris are available in different types of fabrics always allows the women of today to be more fashionable daily. Here are the most commonly used fabrics:
Silk Saree: 
Silk is primarily a fabric that is obtained from the cocoon of the larvae of the mulberry silkworm. There are several kinds of silk saree such as Kanchipuram, Banarasi, Konrad, Chanderi, and Tussar. These silk sarees are produced when the artisans solely use silk as their base material for weaving.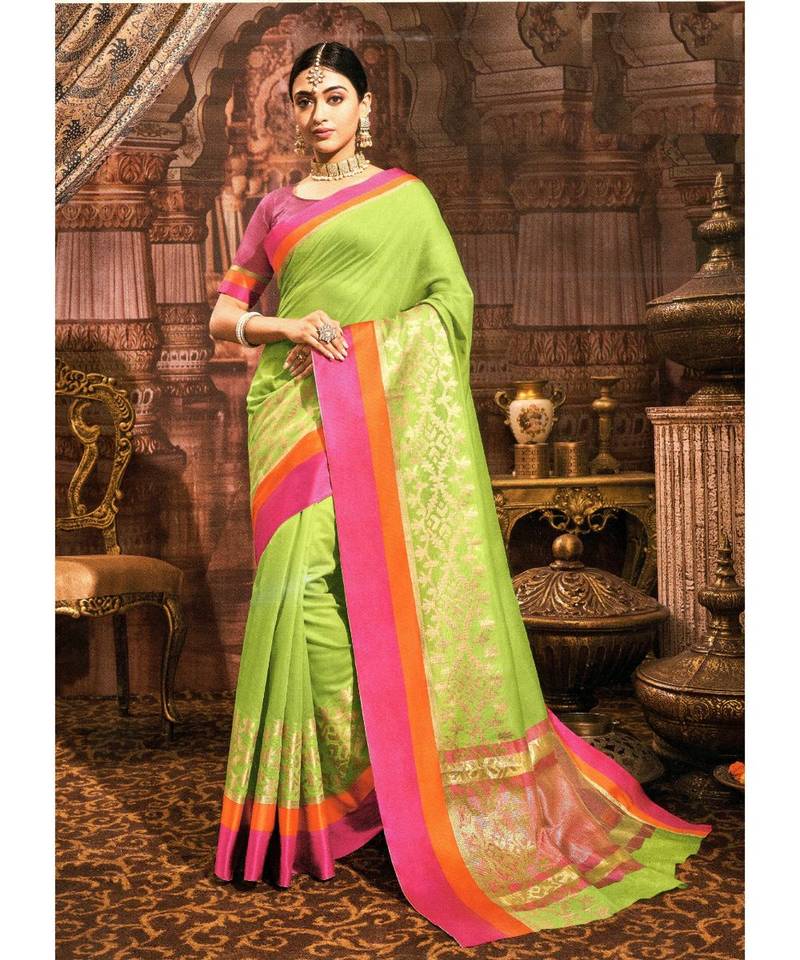 Cotton Saree:
These are popularly known as daily wear saris, due to its everyday wearability. Cotton sarees are best suitable for summers as it keeps you cool for long hours. This sari has become a personal favorite among women of all ages.
Chiffon Saree:
Chiffon sarees are polyester made and lightweight. These are so lightweight that you feel floating in the air like experience while donning it. These are flowy, smooth, and slippery material, that has revolutionized due to its lightweight and figure-hugging facet. It depicts the sensual trait of a sari with elegance.
Georgette Sarees:
These saris are made of silk and polyester alike. It has a crinkly effect to it, which makes it wavy. These have a border like plain, satin infused to give the sari a royal and rich look. Georgette sarees are worn by working women profusely, as it gives them the elegant as well as saree sponsored grace.
Net Sarees:
Net sarees are transparent and best for party wear. These help you dress stylishly with trendy yet modern designs without losing the sensuality of a sari. Women with svelte and slim body attributes must go for net sari. These are typically woven in such a way that the threads are done in a natural criss-cross fashion. They can easily be worn without much hassle. Net saris with heavy embroidery is the most popular buy in the wedding season. Team it up with a trendy, halter blouse to rule the party.
Crepe Saris:
Crepe saree is made of delicately crisp silk. The geometric pattern and ethnic art are the common design found in crepe sari. These are very elegant in look due to its luminous appearance. These are wearable throughout the year. Crepe saree has a wavy touch that hangs on to your body and makes you look slim.