Well it's almost wedding season now! Are you ready for it? A girl dreams about her wedding appearance from since her childhood. The wedding day is one of the most important parts of one's life and one has all the right to look beautiful on this day.
Here is some top designs for bridal sarees:-
This Wedding sarees is in trend. These saree gives a contemporary edge to the look while maintaining the best comfort level. It is not hard to carry. This saree is a good choice when you don't want to over do on your look. These sarees are not even expensive and you can pair them with expensive ornaments to justify your look.
This saree give just the perfect elegance to the look. It is a universal choice for shimmer lovers and is one of the best combination. The golden border makes the saree stand out in the crowd and is a must have in the wedding season. You can pair this with pearl jewellery or diamond danglers. During washing of the saree you should be extremely careful about motifs. In order to ensure longevity don't rub on the motifs.
These saree has a very soft material clinging to the body, flaunting the body figure just perfectly. These sarees are usually of floral prints, and doodle painting. You just need a pair of matching earrings and bangles to rock the look!
Are you a true traditional saree lover? If yes, then Paithani Saree is the best choice for you. This saree comes in pastel English colors and is of soft material. The bride can add up on the look with heavy traditional jewelry and elegant bun. These sarees are perfect to give that blend of modern finesse.
This is the best choice to cherish your look while considering your love for bright colors. Pair this up with kundan jewelry to look elegant. In order to maintain them you need to give it that laundry wash that will ensure its longevity.
This saree hug the body in the most perfect way and stands out in the crowd when paired with temple jewellery and a layer of sets.
This is for people who consider their comfort over their look. This saree is a beautiful piece when paired with light silver or imitation jewellery. This is a simple look yet makes you look elegant and beautiful.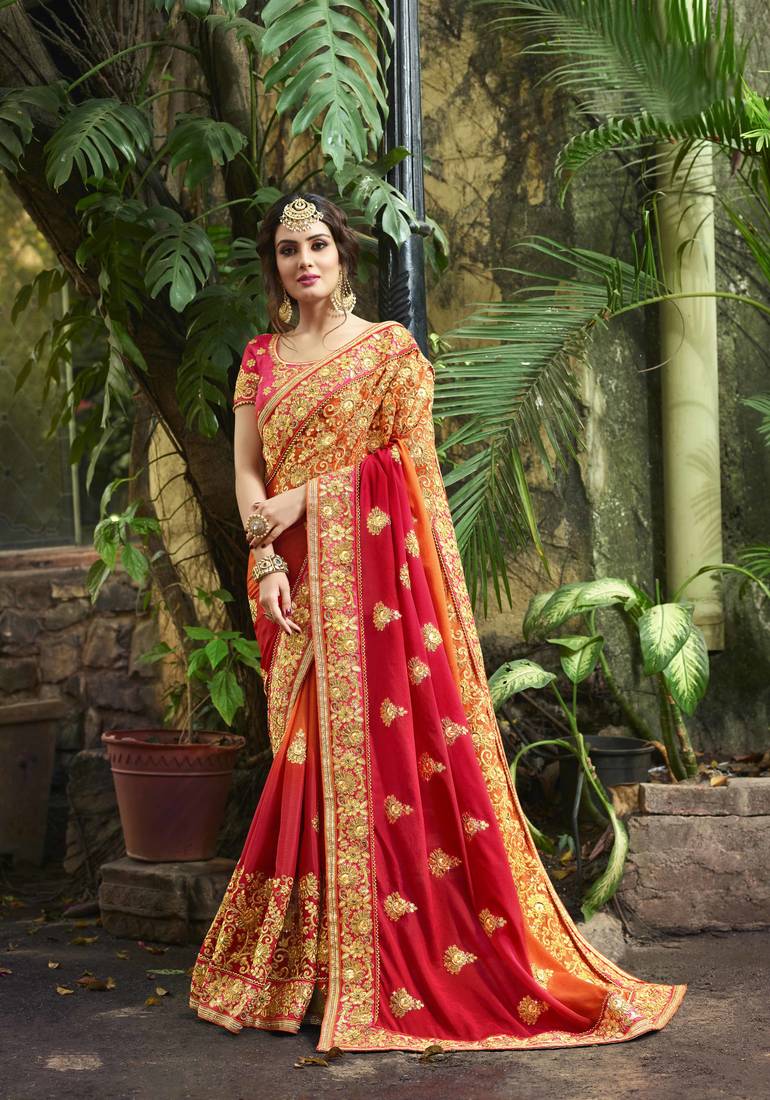 This is one the trending designs were the half saree is of plain color and the other is with embroidery designs. It gives you the classic elegant look when worn with big earrings and pearl necklace.
It's the perfect choice for a theme based wedding. The Embroidered net saree helps you stand out in the crowd. It gives you the ideal sumptuous look. It needs light makeup with minimal accessories.