Silk sarees may remind you of celebrities that pull them off almost daily. Due to the natural dye and exuberant emotion, silk is always a success in a traditional function or a wedding. Silk saree provide a defined structure as they are thicker than other fabrics. They stay and show a very poised look as well. One of the biggest features is the durability, well-defined drapes, and lightweight. Silk has more types than any other specific fabric and hence stands out with its versatility.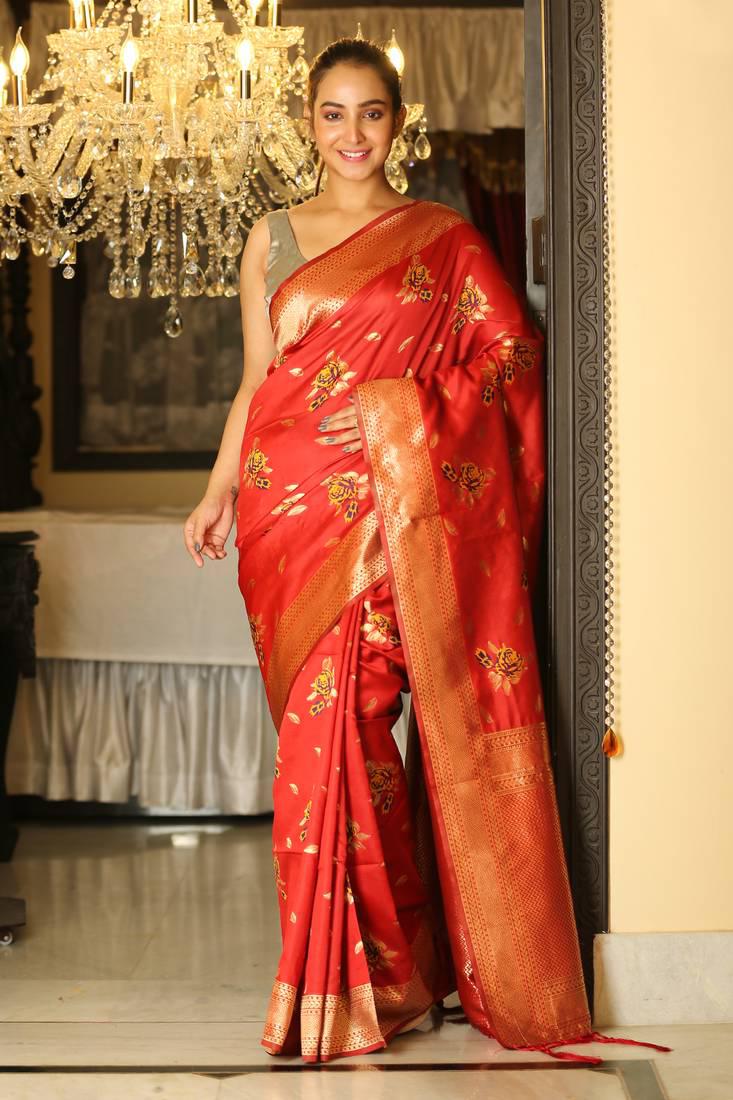 Types of Silk Sarees
Providing a unique blend of culture, modernity, tradition, grace, elegance, and respectability silk saris are always going to be a favorite. The types of silk sarees found around the country are Kanchipuram silk saree, Banarasi saree, Tussar silk saree, Art silk sari, Bhagalpuri silk sari, Baluchari silk sari, Mysore silk sari, Chanderi saree, Bandhani saree, and Raw Silk Sari and Cotton Saree. Amongst the above types, the Baluchari Sari has a depiction of mythological characters from the Ramayana and Mahabharata. Another Royal where among the silk sarees is the Paithani sarees as they have floral designs, natural elements like plants and animals incorporated in the design. There is another beautifully weaved saris from South India is the Pattu sarees. These saris are handwoven with wide contrast border. Other saris are more or less similar but differ in their color palettes, machinery used, the style followed and worn, and procedure that is is implemented in the creation of the saree.
How to choose the perfect Silk
After reading about all the styles and types of silk saris, you may be confused about your preference. Here are the simple guide for you to find the perfect choice.
Women of medium and medium skin tones usually prefer shades of red, orange, saffron, yellow, and hot pinks. These brighten the face. Dark and neutral colors add darkness to the face than brightening it. Women with bronze or olive skin tones find pastel colors as the best choices. Lastly, cool and pale skin tones work best with bright blues and pinks.
Silk Saree Borders are the make or break factor as they can overemphasize or underestimate the appearance. Usually, shorter women must opt for shorter bordered saris and taller women can go for broader borders.
Any outfit is incomplete without proper embellishments. To add the finishing touch to your outfit, ensure you're choosing the embellishments that not only suit the occasions but also suit one's personality. For weddings, you'd have to go for larger Indian jewelry that's more detailed and for a simple occasion, even a simple chain with a pendant will do.
Nowadays, many shopping sites making the best designer sarees and famous designs of silk saris available to you, delivered at your doorstep that ensure you're thoroughly satisfied with your choice. You can also explore a wide range of Indian wedding attires.